About Us
Enjoy the best tasting gourmet pizzas at Benny's Gourmet Pizza. We are conveniently located at 113 Marlborough Street, Henley Beach. We serve the best pizzas in the entire area. Our gourmet pizzas such as Garlic Prawn, Potato, Pearle's Special, Marinara, Margarita, BBQ Chicken, Meat Lovers, Pepperoni and Calabrese are some of our must-try pizza creations. We are known for our signature pizzas, including Saffron Chicken, Merguez (Moroccan Beef) and Fruit of the Sea. Visit us and experience it for yourself. Grab a bite or two and indulge yourself in our pizzas' rich and flavourful tastes. We accept online orders and we deliver.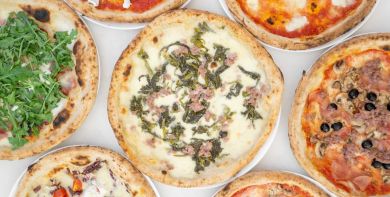 Reviews
Vanessa
"Best pizza and best service every time"
Michael
"Enjoyed my Benny's pizza, the whole process of ordering online was super easy & after submitting I was given an estimated delivery time of 1 hour. Pizza came nice & in 40min. Thanks Team ??"
We deliver to
5007 Welland, 5008 Croydon, 5008 West Croydon, 5009 Allenby Gardens, 5009 Beverley, 5011 Woodville, 5011 Woodville Park, 5011 Woodville South, 5011 Woodville West, 5013 Rosewater, 5014 Albert Park, 5014 Alberton, 5014 Hendon, 5014 Queenstown, 5014 Royal Park, 5019 Semaphore Park, 5019 Semaphore South, 5020 West Lakes Shore, 5021 West Lakes, 5022 Grange, 5022 Henley Beach, 5022 Henley Beach South, 5022 Tennyson, 5023 Findon, 5023 Seaton, 5024 Fulham, 5024 Fulham Gardens, 5024 West Beach, 5025 Flinders Park, 5025 Kidman Park, 5031 Mile End, 5031 Mile End South, 5031 Thebarton, 5031 Torrensville, 5032 Brooklyn Park, 5032 Lockleys, 5032 Underdale, 5033 Cowandilla, 5033 Hilton, 5033 West Richmond, 5038 Camden Park, 5045 Glenelg North, 5950 Adelaide Airport